---
Projects and contracts
The PhLAM laboratory is involved in many collaborations.
The PhLAM laboratory is the largest physics laboratory in Lille and therefore plays a central role in this discipline at the University of Lille.
The PhLAM is constantly looking for new collaborators and puts its expertise and know-how at the disposal of its academic and industrial partners. These collaborations aim at sharing and acquiring new knowledge. One of its strengths is the effort to transfer skills and technology from the laboratory to industry.
The laboratory is heavily involved in selected regional (CPER), national (PIA) and European (H2020 and ERC) projects. He was the winner of several projects labeled in response to calls for tender from the ANR and within the framework of the PIA.
The laboratory's scientific objectives are largely defined by the CEMPI and CaPPA Labex, Equipex FLUX, Imaginex BioMed and REFIMEVE+, the CPER Photonics 4 Society and Climibio, and the I-SITE ULNE project.
CPER: State-Region Plan Contracts
State-Region Plan Contracts are primarily catalysts for investment. They are needed to raise the level of equipment in the territories, support employment and prepare for the future. They are intended to finance projects that leverage local investment.
PIA: Investissements d'Avenir Program
The objective of the PIA is to increase productivity, innovate, increase the competitiveness of companies, but also to promote employment and promote equal opportunities by supporting investment and innovation in sectors generating growth and jobs.
ERC : European Research Council
The European Research Council (ERC) is a European Union body responsible for coordinating research efforts between EU Member States and the first pan-European funding agency for "research at the European level" border of knowledge.
ERC Consolidator Grant Project "Laser-Induced Steam Nanobulles for Intracellular Delivery of Nanomaterials and Treatment of Biofilm Infections" to Develop a New Method for Delivering Molecules in Living Cells and Treatment of Infections by biofilm. Applications range from cancer immunotherapy to improving cell staining in the treatment of chronic infections. The high-throughput ophthalmic expertise developed as part of an industrial project by the Stress Response and Cell Death biophysics group has allowed PhLAM's DYSCO team to be a partner in the ERC Consolidator Grant.
The DYSCO team is leading an ERC HoneyPol startup grant based on studying the physics of coupled photon resonator polariton arrays, taking advantage of the technology facilities available at C2N. PhLAM studies topological photonic phenomena in polariton arrays, in particular their nonlinear properties. The DYSCO team is developing these studies in fiber-coupled rings in collaboration with the Cold Atoms team.
The EMERGEN TOPO research project aims to demonstrate new light transport properties within photonic chips and optical fiber networks.
To achieve this, the project relies on the concept of topology. Topology defines the properties of a physical system that remain unchanged during a system deformation. Thus, a topological photonic chip has much more efficient light transport properties than a conventional chip. The project aims to induce topological transport properties, on the one hand thanks to the optical non-linearities present on certain materials, and on the other hand thanks to the implementation of a temporal modulation of the optical system, two scenarios up to present unexplored.
Dragon made of silica by two-photon 3D printing (PHLAM / IRCICA)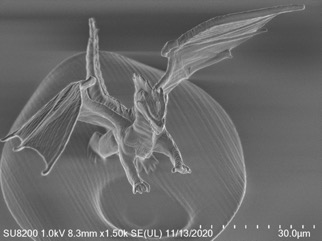 I-SITE ULNE: University Lille Nord-Europe
The PhLAM lab labeled I-SITE (Initiatives-Science-Innovation-Territories-Economy) since 2017, participates in the project of creation of the future major international university "University Lille Nord-Europe" within 10 years. I-SITE ULNE relies on a research and training organization organized into 3 hubs "intended to bring together originally diverse groups to combine strengths and excellence, guide research strategies and address a common societal concern.
Pole 1 focuses on "Precision man it alth", Pole 2 on "Science for a changing planet" and Pole 3 addresses concerns about a "digital friendly world".
Thanks to its key role in the CaPPA Labex and the CEMPI Labex, PhLAM plays an important role in Poles 2 and 3, both in terms of research and training. In particular with the coordinators of the future doctoral schools associated with pole 2 "Higher School of Environmental Sciences of Lille" with Mr. Douay and at pole 3 "Friendly Deep Tech" with T. Huet.
Interreg France-Wallonie-Vlaanderen
SATT NORD-Technological ripening program
SATT Nord (Technology Transfer Acceleration Offices) supports two projects: Carsimage and SpiderMass, both related to biological imaging and characterization.
The SATT SpiderMass maturation project started in 2016. Its main objective is the transfer of technology from a laser device for in vivo biological analysis and in real time by mass spectrometry. The device, developed in close collaboration between PhLAM and PRISM laboratories, collects the information needed to establish a rapid and accurate diagnosis during a surgical procedure.
Horizon 2020
Bilateral international cooperation European networks under the 6th and 7th FPRTD, European networks within the framework of the 6th and 7th CPRDT (Framework Program for Research and Technological Development).
The Horizon 2020 Framework Program (2014-2020) brings together, for the first time in a single program, European research and innovation programs such as the P.C.R.D.T.
ANR : National Research Agency
The ANR's actions aim to support the excellence of French research at various degrees of technological maturity, to support fundamental research, to encourage academic and "public-private" scientific partnerships, and to encourage European and international cooperation. To do this, it offers competitive calls for projects and implements rigorous selection processes based on peer review, which respect international principles in this area: impartiality, fair treatment, confidentiality, ethics, scientific integrity, and transparency.